Anchoring
Effective Anchoring for any water condition.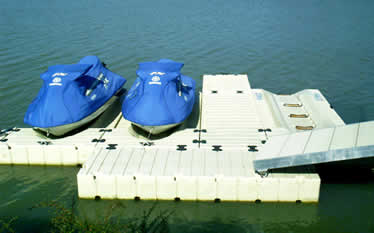 Once your EZ Dock System is in place, you can rest assured that it will stay intact. Our wide-variety of anchoring components are simple to install and safe to use.
Constructed of either polyethylene or steel, both of which are long-lasting, durable materials that can range from light- to heavy-duty, they provide a wide range of reliable options to construct a dock for nearly any use and water application.
Consult your local dealer to verify which type of anchoring is best for you.

Heavy-duty polyethylene pipe bracket allows docks to adjust to changing water levels.
Part #: 210250, 210350

Standard-duty bracket provides ample anchoring for EZ Port PWC lifts, or for smaller docks in moderate conditions.
Part #: 130250, 130350

Reversible hinge allows you to bolt EZ Port PWC lifts or EZ Dock sections to other types of floating docks.
Part #: 100750, 100750SS

For light-duty anchoring with chain and/or to attach 4" x 4" (10cm x 10cm) railing or mooring posts. Chain sold separately.
Part #: 100740, 100740SS

Heavy-duty polyethylene bracket allows lateral position adjustment to attach to piles up to 18" (46cm) in diameter.
Part #: 300800

Mainframe piling bracket is predrilled for hoops from 4" (10cm) to 24" (61cm) wide. Includes connectors with nuts. Hoops sold separately.
Part #: 100800, 100800SSHW

Auger with bolt and nut allows for drilling and setting pipe in lake, river or ocean bottoms. Pipe sold separately.
Part #: 100255, 100355

Galvanized steel, mechanical-grade pipe provides economical anchoring in shallow water. Pipe and caps sold separately.
Part #: 100026, 100036