EZ Launch®
Now Launching!


The new EZ Launch for Kayaks and Canoes is the first and only port system built specifically for paddlers. It's so simple and safe to use that everyone will find boarding, launching and recovery a breeze — our oversized rollers and guide rails make it easy to "glide" on and off. It can even be made ADA accessible.
Because it is self-floating, EZ Launch adjusts to changing water levels; and there is ample "foot space" on both sides and in the front to allow for optimum access and stability. Simply put, nothing could be easier for protecting your paddlers, their gear and their vessels when launching and docking.
Our goal is to effectively meet all of your waterfront needs. That's why EZ Launch is modular, making it adaptable to any location. It can be used with your current EZ Dock system or with an existing traditional dock.

Features & Benefits
Simple and safe boarding, launching and recovery
Easy to install and move without the use of heavy equipment
Works with current EZ Dock system or existing wood dock
Versatile, self-floating design makes it suitable for an waterfront
Easy access to all. Exceeds ADA standards
Made of maintenance-free and non-toxic materials
Longevity well beyond that of a treated wood launch
High value based on its low upkeep and long-lasting usability
Provides ultra convenient, three-sided accessibility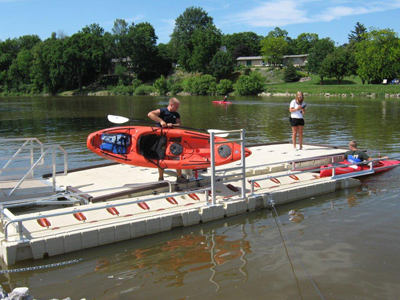 Installation Locations
Au Train
Alpena
Ann Arbor
Arcadia
Battle Creek
Battle Creek
Bridgeton
DeWitt Charter Twp.
City of DeWitt
Coopersville
Dimondale
Frankenmuth
Fort Gratiot Twp.
Grand Haven
Howell
Jenison
Lansing
Lansing
Lake Odessa
Lowell
Luna Pier
Lupton
Lyons
Maple Island
Marysville
Midland
Downtown Midland
Oakland Charter Twp.
Port Huron Twp.
Downtown Port Huron
Sanford
St. Clair
St. Helen / Richfield Twp.
Traverse City


Au Train Heritage Trailhead
Duck Park
Gallup Park
Grebe Park
Bridge Park
Paddler's Grove
Bridgeton Boat Launch
Looking Glass Riverfront Park
Riverside Park
Eastmanville Bayou Park
Island Park
Heritage Park
North River Road Park
Connor Bayou Park
Bishop Lake Campground
Grand River Park
Cherry Hill Park
Crego Park
Municipal Beach & Marina
Flat River - 300 N Monroe St.
Luna Pier Public Beach & Pier
Rifle River Recreation Area
Hazel Devore Island Park
Maple Island Boat Launch
City Boat Launch
Chippewa River - Meridian Rd.
Chippewa - Ashman & Wyman St.
Lost Lake Nature Park
Bakers Field Park
Black River - Quay & 7th St.
Sanford Lake Park Boat Ramp
St. Clair City Boat Launch
St. Helen Public Boat Launch
West Boardman Lake Trail